It's All About Perspective – Marlene Williams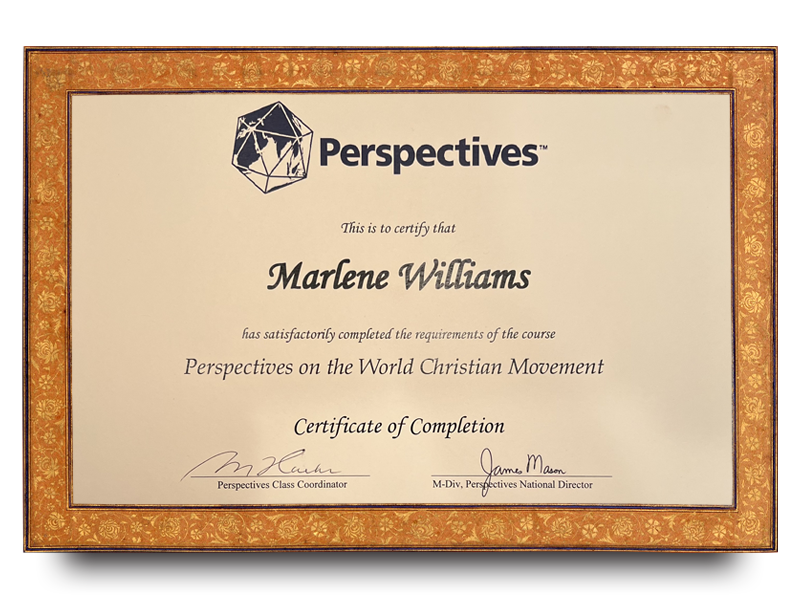 The dictionary defines perspective as "a particular attitude toward or way of regarding something; a point of view." With this in mind, my question for you is this: "What is your perspective on God's heart for the nations?"

At XMA our mission is to know Him and make Him known, and in partnership with Perspectives on the World Christian Movement, we are doing just that. This past spring, I completed Perspectives' 15-week intense and inspiring study on world missions. Many of our XMA missionaries have already completed this course, while one of our newest team members is registered for an upcoming course in Texas.

What is Perspectives? Perspectives is a tool that leads us to become "World Christians". This course gives the biblical world perspective necessary to be truly effective. By gaining a clear understanding of the biblical mandate we have been given, a door to fulfill that mandate within other cultures swings open creating a space for the Gospel. What happens in Perspectives leaves you speechless and in awe of a God who invites you to be a "worker together with Him." Thousands of students worldwide have learned to look outward at a world that desperately needs us to obey our Lord Jesus Christ in making disciples of all nations.
As a partner of XMA, we assume you already have a heart for the unreached; therefore, we open the door for you to join us in the spring of 2023 as we grow into a community of believers with God's perspective!
Details for the 8th Annual class in NELA
Where: Fair Park Baptist Church
4412 Whites Ferry Road
West Monroe, LA 71291
When: Each Monday evening from 6:00 to 8:30 for 15 weeks
January 16 to April 24, 2023
Dinner will be served each evening.
Not convinced?
A "Taste and See Supper" will be held at Fair Park on September 26 at 6:00pm featuring speaker Steve Elworth of The Chapel on Campus at LSU. Must RSVP to Susan Gordon (318-680-5334).
For more information about my experience or next steps please contact me at marlene@xmaonline.com or 318-376-6838